Evite believes in the strength of human connection.
Right now, there's nothing more powerful than our relationships.
Please check back with us in the coming days as our team works on enabling solutions to help you through this time.
Join our email list to receive updates on staying connected.
Now more than ever, the greatest value we can offer one another is our mutual support. To help you stay connected during this unprecedented time, Evite now supports virtual connection in two ways:
Host virtual events with video chat
Now, easily add links to Skype, Zoom, and more, directly in any of our 4,000+ invitations.
Get Started
Send a free card to loved ones
During this challenging time, send Premium Cards with video messages to up to 750 people— free.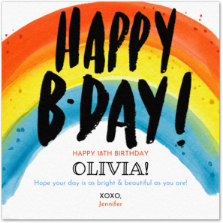 Browse Cards
If you're looking for more ways to make the most of your relationships while practicing physical distance, consider these ideas.
Schedule calls with your loved ones.
The best way to make sure you're still connecting is by putting it on your calendar.
Set up a daily or weekly group video call with your loved ones, or invite them to virtually join you at dinnertime. On occasions you aren't able to call, send a voice note instead of a text message to recap your day, or simply to say goodnight!
Use virtual communication as an alternative to in-person events.
Compensate for any loss of in-person interaction with virtual communication.
If you are canceling a social gathering, schedule a Skype or FaceTime session so you can still see each other, face-to-face. Or, if anybody for health, travel, or other reasons isn't able to attend your small gathering, use video calls to make sure they still feel included, especially during the big moments like opening gifts or blowing out candles.
Bring back dinner with your housemates.
It's important to make sure that when you're together, you're together.
During busy times, even your own housemates may split up for meals and eat individually. Take time to strengthen your household bonds by bringing the small group living in your home together at one table for dinner.
Start a new project together.
Find ways to share the activities you would typically do alone.
If you're picking up a new hobby, ask your friends if they're interested in joining you on their end. Your group can try any activity from taking an online class to reading a book together, or even starting a podcast! Be sure to create a group chat where you and your friends can regularly discuss your individual progress together.
Send thoughtful care packages.
There's nothing more exciting than receiving a package, especially when it's a well-thought care package.
Let your loved ones know you're thinking of them by sending a personalized package of their favorite things and a few other pick-me-ups: snacks, games to play, and anxiety-reducing self-care items such as aromatherapy candles.